1950 Madame Alexander Cinderella
1950 Cinderella Paper Dolls
 1950 Pullan Cinderella Doll
 1950s Sweet Rosemary Cinderella Doll
1950 Cinderella Storybook Doll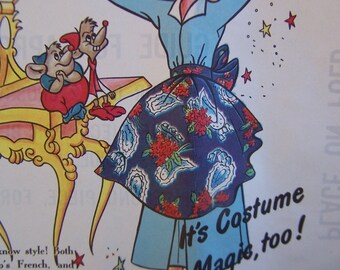 J. C. Penney's Cinderella Apron
"Given the strained finances of the Studio, it's not surprising that Disney launched Cinderella with an extensive publicity and merchandising campaign. J. C. Penney offered a kit to 'make your own Walt Disney's Cinderella apron.'  A home-improvement campaing used the sogan, 'Make your home your palace, says Walt Disey's Cinderella: Clean Up, Paint Up, Fix Up. '
"Other tie-ins included bridal fashions, shoes for teenages, and little girls' dresses.   For 'the sweetest story ever told,' Libbey issued a line of jelly glasses with scenes from the film.  Cottage cheese was sold in the same galsses, and a trade journal announced, ' Walt Disney's Cinderella gives you [p. 100] the gretest cottage promotional theme the dairy industry has ever seen!
"One hundred Chicago high school girls competed to be chosen in Cinderella in a contest held by a local department store.  Ilene Woods appeared at a special screening of the film for the posh ($25-a-plate) New York Heart Ball.   One of the highlights of the event was a society matron modeling specially decorated &3,000 designer shoes.
1950 Life Magazine
"Life, Look, Newsweek, and Catholic Boy ran feature articles about the film.  In France, Le Soir Illustre included a fictionalized interview with a Cinderella, while a Disney Studio writer retold the story from Jaq's poin to view in Cinemonde.
'The reviews were generally favorable.  In the Los Angeles Times, Edwin Schallert wrote, 'Only Disney could create a picture so rich and imaginative in beauty…It is a wonderful fairy tale of the cinema for both children and adults.  Its appeal should be universal.'  The Hollywood Reporter praised it as 'just wonderful–the very best Disney since Snow White.'  Margaret Martin in Philadelphia Inquirer gushed, 'Disney and his staff are right back where they belong, at their best again in a world of sheer enchantment.'  Oscar Davis dismissed anyone who didn't like the film as 'a Scrooge' in Washington D.C. , News.  Although some critics complained that the Prince was wooden, there was unanimous praise for the mice and Lucifer.
In Box Office, Ivan Spear noted, 'Inevitable it is that the picture will be compared on many counts with Disney's former masterpiece, Snow White and the Seven Dwarfs.  And on vertually every one of those counts, the current offereing must inevitably emerge with the laurels.'
Martin wrote, 'Whether, on eery score, Cinderella quite equals Snow White and the Seven Dwarfs or not seems to us totally unimportant.  Only a [p. 102] churl would begrudge Walt Disney andhis sprites a rousing, unreserved vote of gratitude,' Schallert concluded.  'Not, perhaps, since Snow White and the Seven Dwarfs has Disney done anything so delightful as Cinderella in the true familiar fairy-tale eanner.  In most ways it reveals progress far beyond that picture.  In some respects (Iam thinking of the dwarfs), it may not be quite as fully fledge.  But for any time and any place it stands as rare and radiant filmmaking.'
"More importantly, the public embraced Cinderella with an enthusiasm that recalled the response to Snow White.  One of the top films of 1950, the film grossed more than $4 million on its initial release.  Buoyed by his first unqualified success since Snow White, Walt turned his attention to an ambitious slate of projects, one in which animation played a smaller part.
"But Cinderella apparently held a special place in Walt's heart.  Marc Davis said, 'Somebody told me this second hand:  They were having lunch with Walt and some rather important people, when one of the women said, "Mr. Disney, all of the animation that's come out of your studio, what is your favorite?"  He thought for a second, then said, "Well, I guess it would have to be where Cinderella got her gown."
'That doesn't mean that it's the best animation, but it means something about Walt's personality, that he picked this scene of a poor person overcoming the terrible degrading things that had happened to her.' " Solomon, A Wish Your Heart Makes, pgs. 103 – 104.
"Unlike many films which enjoy bief periods of success and are then forgotten or dismissed as curiosities, Cinderella has retained its popularity.  Its initial video release earned over $100 million, and Toy Story director John Lasseter notes, 'In the trememndous success of Disney Consumer Products Division's Disney Princess line, Cinderella is to this day, the number-one princess.  Some of the new ones we've created are becoming as popular.  But she's the top because of how good this movie is.'
"In adition to the film's ongoing popularity with general audiences, it influenced many artists to choose animation as a profession–just as the Silly Sumphonies had excited artists about the prospect of working at the Disney Studio decades earlier.  Mark Henn, who animated many recent heroines, including Belle and ulan, reflects, 'Cinderella was pivotal in my career.  I actually didn't have a career at six or eight when I went to see it.  As a kid, I just loved to draw, and at that point I was old enough to understand that this was drawn.  I didn't know how animation worked, but I knew that drawings made this happen.'
Ratatouille director Brad Bird adds, 'I saw Cinderella with an audience more than once, and I remember paying attention to how wrapped up and upset people got in the last fifteen minutes.  I noticed that it had the same effect on different audiences.  The same moments were excruciating whether it was with the audience that I was with now or the audience that I was with the week before.  I started to think there was a real art to the way stories could [p. 104] be presented on screen–and that certain people were doing it consistently better than others.'
"Lasseter sums up the enthusiasm of his generation's animation filmmakers when he says, 'Cinderella is the pinnacle.  [Walt's} true masterpiece.  You feel that he had something to prove, too.  Snow White was a massive hit and brought on a new form of entertainment: the feature-length animated film.  Pinocchio was incredible, but the European market was going away.  Then there were the war years.  So coming out of that time, he really wanted to come back strong.  I can feel that this was a very important film for him.'
" 'Why I Do what I do for a living is really because of hose moments Walt did for me as a kid in the audience,' Lasseter concludes.  'What he did for audiences all over the world: blending story and art and animation and music and color and everything together to craft these incredible emotions.  Happiness and hope and joy; good over evil.' " Solomon, A Wish Your Heart Makes, pgs. 104 – 105.
1950 American Standard "Cinderella" Sink
 1950s Pyrex Pink Gooseberry Cinderella Cookware
 1950s Pyrex Opal Cinderella Bowl